What's the easiest way to discover what your SaaS users like and dislike most about your software? Ask them!
For far too long, user feedback has been a tedious and often overlooked part of software development. But it doesn't have to be that way. Qrvey is unique in that we are an all-in-one analytics platform that includes your entire data pipeline. That means we combine the ability to collect data using forms, surveys and quizzes with our analytics and automation capabilities. Now product managers can easily automate their entire user feedback process and always have their finger on the pulse of user sentiment. Having the complete data picture allows software companies to delight their users, boost user engagement and ultimately, increase their average revenue per user (RPU).
It all starts with your user data. Qrvey can easily connect to any datasource and is also compatible with single sign-on solutions like OpenID. Once your data is connected, you'll have quick access to your users' information so you can begin collecting feedback.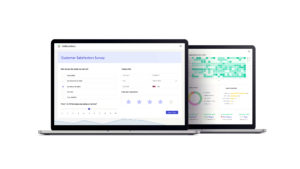 Next, you'll be able to access Qrvey's web form builder to design forms, surveys and quizzes that make collecting the data you need quick and painless for your users. Qrvey supports dozens of engaging question types as well as advanced logic like branching, so certain responses can automatically trigger the appropriate follow-up questions. Qrvey also supports quizzes, which are a fun way to engage users to test their knowledge and keep them excited about your software. Quizzes also include advanced functionality for scoring and leaderboards, making it a great way to gamify your feedback collection or add a little fun to your platform.
Once your feedback has been collected, the real power of the Qrvey platform is triggered… automation. Qrvey's automation layer is constantly monitoring your data and allows you to trigger workflows when new data is received or updated, when predefined metrics and thresholds are met, or on a regularly scheduled basis. Actions can include alerts and notifications, data write backs, webhooks to third-party systems or the scheduling of follow-up questionnaires.
With Qrvey, software companies can finally close the feedback loop, building entire user feedback systems that can trigger the moment a new user is created and follow them throughout the user lifecycle and beyond. And, since the entire Qrvey platform is embeddable, you're able to place your feedback collection directly into your software where your users are most likely to engage.
Imagine your entire product management team having realtime feedback on user engagement, sentiment as well as their thoughts on the latest features you've added. Qrvey can automatically alert your team when sentiment falls below certain levels. It can trigger third-party systems to offer coupons or promotions for users who are dissatisfied and on the verge of canceling. And, since it's completely automated, it won't cost you time or resources to manage over the long-term.
Learn more about how Qrvey helps software companies embed powerful cloud-native data and analytics into their products. See a demo today.