Analyze Any Data From Within Your SaaS Application
Qrvey's embedded analytics solution can connect to any type of data source with the most common database connectors natively built for simple setup and management. Whether through a native data connector or flexible API, Qrvey can ingest it.
The More Data You Collect, the More Powerful Your
Business Becomes
The need to ingest all types of data — including structured, semi- and unstructured — is no longer optional.
Get a Demo
All Data Types
SQL/structured data is just the tip of the iceberg. Companies today demand more performant databases and they have real-time data, analysis and automation use cases.
AI & ML at Your Fingertips

As an AWS-native solution, Qrvey leverages the best-in-class AI/ML services from AWS to automatically profile, enhance and augment your data.
Reduce the Need for ETL
Many of the transformation and data loading services required by other analytics platforms are built right into Qrvey at the API layer.
Data Sync Connectors
Get to market faster with easy to implement data source connectors that include any type of data.

Native Database Connectors
Qrvey offers native connectors for the most popular databases like MySQL, PostgreSQL, MongoDB and Snowflake.

Native ETL
Qrvey's native ETL service can transform and augment data during the sync process eliminating the need for external ETL.

Cost Effective and Scalable
Synced data is stored in AWS OpenSearch providing a scalable and cost effective database for analytics use cases.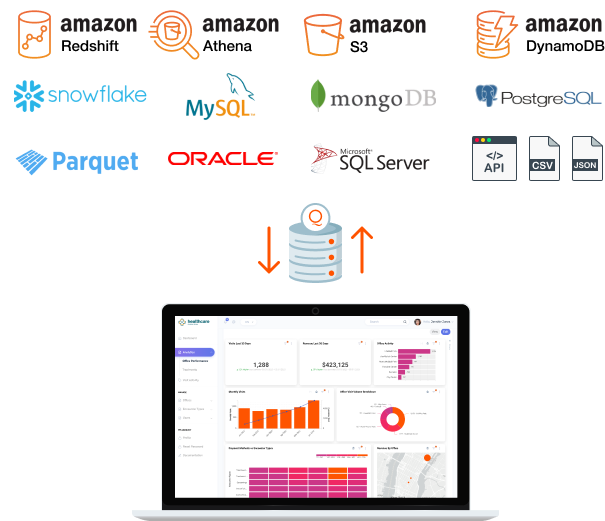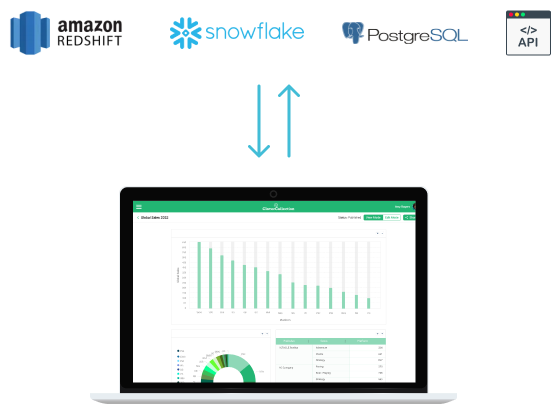 Live Data Connectors
Use real-time, live data connectors to give access to embedded analytics users that require up-to-the-minute data.

Use Multiple Sources
Qrvey can connect to multiple sources to query live data direct from it's original database source.

Mix Data Sources
Users can add visualizations to the single Qrvey dashboards using multiple sources of data to mix data sources.

Achieve Cost Optimization
Mixing synced and real-time data sources can often help achieve efficiency and cost savings.
See Qrvey in Action!
Learn about Qrvey's embedded analytics platform and get quick answers to your questions by booking a guided product tour with our experts. 
Get a Demo