Presentation by Maria Salazar at Product World
Article by Veronica Sheriff
March 2022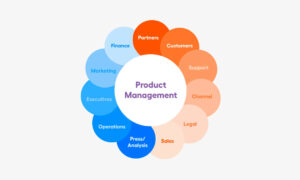 When we think of a good product management team, quite often what comes to mind is a well organized team, one with lots of structure that is harmoniously focused on planning, creating, managing and launching products without any issues, delays or interruptions.
When we look at industry models, such as this one from the 280 Group that defines product management as the central point of communication, we think the product manager's job is always well defined, coordinated, and structured at any company, regardless of size.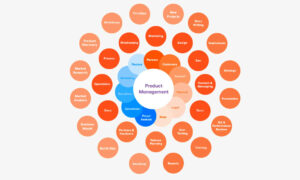 However, as a product manager, you already realize that your day and your week probably look a lot more like this model. With this kind of chaos, you may worry how to move your organization to the next level – how do you get from good to exceptional? Most days you're probably feeling cornered and overwhelmed; you have too many responsibilities and are always answering to so many people and teams, and sometimes you may even feel like you are often speaking a foreign language with other areas in your organization. While most days, the industry and general sentiments may make you feel alone in this chaotic product world, the good news is you are never really alone.
"We started with the exercise of defining our north star, hoping that with this common goal, we could keep everyone in the company focused…"
Maria Salazar spoke at ProductWorld, the world's largest product manager and product developer conference, last month. The topic? How to overcome some of these common product management challenges. Keeping in mind that there is no one-size-fits-all approach or solution, Maria provided managers across the globe with these four key pillars for success:
1. Figure out where you want to go. What are the tools that you need and how can you adapt them to your unique situation?
Sometimes, it's hard to make sure that everyone is striving towards the same strategic goals when individuals are working and thinking independently and are members of very diverse teams. Take a step back reevaluate the roadmap and try to align strategy, planning and people.
"In my case," explained Maria, "we started with the exercise of defining our north star, hoping that with this common goal, we could keep everyone in the company focused on the most important metric that drives customer and business value."
Defining clear goals, direction and metrics with the way people work will help people move harmoniously together by encouraging participation and getting teams excited about the future
2. Focus on cross-functional and cultural team alignment
Alignment of people is essential to produce results – a team that cannot function together effectively will not produce. Managing cross-functional teams is a complex endeavor by itself, but it becomes even more challenging when the cross-cultural component is added to the mix. To move forward you must find a way to break down communication barriers and relearn how to collaborate effectively. Sometimes that means that you must evaluate your own methodologies as a leader.
Maria explained how her team worked in a different city than she did. While they all worked in the same country, the culture of the two cities was very different. She notes "I had a very strict mindset and approach to the way I thought we needed to work to deliver on time; I expected others to work the same way I did. I did not understand why work had to stop when there was a soccer game during office hours."
"What I didn't realize was that watching the game was part of building a community, establishing trust and meaningful connections that actually improved their performance. It took me a while to understand my team, how they worked, what motivated them, and their passions."
3. Scale and decentralize decision making
By decentralizing control, you can create a more responsive and agile environment where you can act faster. While your company's structure may not support a completely decentralized process, you can identify some types of decisions that can be decentralized. However, this is a lot easier in theory than practice.
"This is another one of those big areas where I've personally grown a lot," said Maria. "I was very excited to grow my PM team and get help, but it was very hard to let go and learn to delegate and trust that my people would make the right decisions."
This is another area that may challenge your methodologies as a leader, but if you can encourage autonomy and the growth of self-directing teams you can avoid the chaos, and nobody wants to have a chaotic team.
4. Create an environment of empathy and trust
Empathy and trust are the foundation to successfully managing people and providing solutions that your customers need. Having empathy is what allows you to connect with your users and team to understand their experiences and motivations, and ultimately understand the problem and the pain points you are trying to solve with your product.
Maria explains "Trust is always going to be essential for you as an individual, for example, if you're looking to build a cross-functional team, that is self-directing you can't build it without a foundation of trust and transparent communication."
As a PM, focusing on the people in your organization will always help earn respect from different stakeholders. Be authentic, not perfect and put your ego aside and let the team see the real you and you'll be on the right path toward moving from good to exceptional.
View our Good to Exceptional Infographic.