We are thrilled to announce the release of Qrvey's Snowflake integration, a new data connection option that brings together the best of both worlds – the power of Snowflake for data warehousing and the advanced capabilities of Qrvey's embedded analytics solution for SaaS applications, all within AWS environments.
Lower Snowflake Costs with Optimized Data Queries
One of the key benefits of our Snowflake integration is its ability to optimize data queries specifically for embedded analytics use cases within SaaS applications. By leveraging Qrvey's intelligent query optimization layer, you can significantly reduce your Snowflake costs while still enjoying lightning-fast performance. Snowflake can handle your real-time reporting needs as usual, but for queries relying on data that is not quite real-time, syncing data to Qrvey's solution (deployed in your AWS environment) can help optimize your Snowflake costs. Check out our Snowflake ROI calculator to estimate your savings.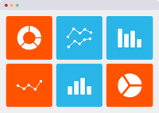 Combine the Power of Snowflake and Qrvey
With Qrvey's Snowflake data connector, you can seamlessly combine the power of Snowflake's real-time data reporting capabilities with Qrvey's advanced features. Qrvey enables dashboard creators to build reports using different data sources to create customizable dashboards specific to their business needs. This means end users can have a single dashboard that combines data sourced from Snowflake and data sourced from Qrvey.
Keep Your Data Secure within Your AWS Environment
At Qrvey, we understand the importance of data security and compliance. That's why our Snowflake data connector ensures that your data stays within your AWS environment when using the synced data approach. If using a live connection method, Qrvey reads data directly from Snowflake without the need to sync data.
Experience the Power of Qrvey's Snowflake Data Connector
Ready to take your data reporting to the next level? Attend Qrvey's upcoming webinar on Tuesday September 26th to learn more about how Snowflake and Qrvey combine to offer a cost-effective, yet scalable solution to embedded analytics. Register Now [link to webinar registration]
If you are ready to see more, contact us today to schedule a demo of Qrvey's Snowflake data connector. Our team of experts will guide you through the seamless integration process and showcase how our solution can unlock the full potential of Snowflake and Qrvey.
Not ready for a demo? Join us for a webinar Tuesday, September 26, 2023, at 2:00 pm ET / 11:00 am PT, to see how Qrvey can help optimize your Snowflake costs.